Recipe: Delicious Fudge and Carmel swirl brownies
Fudge and Carmel swirl brownies. Fudge Brownies with Caramel Swirl recipe. A delicious dessert for any chocolate caramel lover. Instructions are step by step and include photos.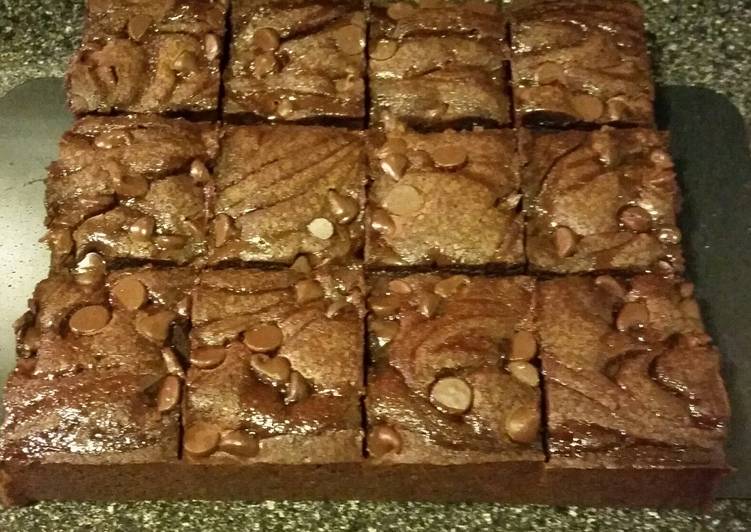 Combine the chocolate chips and the sweetened condensed milk in another heatproof bowl. Fudge brownies with a caramel swirl. Be forewarned the edges are delicious! You can have Fudge and Carmel swirl brownies using 9 ingredients and 8 steps. Here is how you achieve that.
Ingredients of Fudge and Carmel swirl brownies
You need 1 cup of butter.
You need 3/4 cup of cocoa powder.
Prepare 3/4 cup of butter.
You need 2 1/4 cup of sugar.
You need 4 of medium eggs.
You need 1 tbsp of vanilla extract.
You need 1 1/4 cup of all-purpose flour.
It's 1 of Carmel sauce.
Prepare 1/2 cup of chocolate chips.
Step by step directions with pictures are included on related post. Ingredients for caramel fudge brownies What makes this caramel brownie recipe so easy is that you simply just doctor up a box of fudge brownie mix. The chocolate chips, sweetened condensed milk and caramel add the perfect dimension and take these fudge caramel brownies over the top. Browned Butter Caramel and Butterscotch Bars - The blondie equivalent of dark fudgy brownies and are as dark as blondies can get.
Fudge and Carmel swirl brownies instructions
Preheat oven to 350.
Melt 1 cup butter, mix cocoa powder with butter and set aside.
Cream together 3/4 cup butter and 2 1/4 cup sugar.
Then mix in eggs and vanilla extract.
Add cocoa mixture.
Add flour.
Grease a 13x9 pan, pour brownie mix into pan, squirt carmel sauce on top of brownies and swirl with a knife, then sprinkle chocolate chips on top.
Bake for 35-40 minutes..
They're made with dark brown sugar, butterscotch, and caramel for rich depth of flavor. Drop remaining batter by teaspoonfuls over caramel layer; carefully swirl brownie batter with a knife. In a small saucepan, combine caramels, cream cheese, sugar, and milk. Cook and stir over medium-low heat just until caramels melt. In a small bowl, beat egg yolk; gradually stir into the caramel mixture.